Podcast: Play in new window | Download (Duration: 27:39 — 25.4MB) | Embed
Subscribe: Apple Podcasts | RSS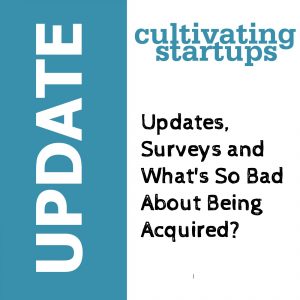 No guest this week, so a roundup of recent news and updates from startup ecosystems.
[1:50] It's deadline week for applications to Canada's Innovation Superclusters program. $950 million up for grabs.
[2:50] The new Grand Innovations hub in Cambridge is coming along and looking at a January opening.
[3:56] Volta Labs is tripling its space in downtown Halifax.
[4:30] New research reports from the Impact Centre. The latest one looks at whether VC-backed Canadian startups have experienced marketing talent and how they compare to U.S. unicorns.
[8:34] Funding for Edmonton organizations under the Alberta Entrepreneurship Incubator Program.
[9:15] Why are we still using the Osterwalder-Pigneur business model canvas? It's not startup friendly and there are better alternatives
[11:41] Provincial funding for Co.Labs incubator in Saskatoon.
[12:51] A look at the Saskatchewan Commercial Innovation Incentive (SCII).
[13:54] WHAT'S SO BAD ABOUT BEING ACQUIRED? Why do so many Canadian columnists treat a startup being acquired as some kind of act of national disloyalty? And why do we insist on saying our startups were "snatched up" or "gobbled up" when their acquisitions actually brought billions of dollars to the country and fuelled our entire funding ecosystem?
[21:19] Results of a survey on accelerators in Canada released by Hockeystick at Startupfest.
[24:23] It's Startup Muster time in Australia, a national startup survey conducted annually in their winter/our summer. Over 2,700 respondents last year!
Links: