Podcast: Play in new window | Download (Duration: 36:32 — 33.6MB) | Embed
Subscribe: Apple Podcasts | RSS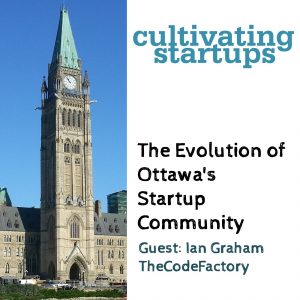 Ottawa has been one of Canada's largest tech centres for decades and has the highest concentration of tech talent in the country. It hasn't always been a smooth ride—the city was riding high on the telecom boom of the late 1990s and took a big hit when the glory days came to an end, but it evolved and rebuilt and now has an impressive collection of startups and young companies, led by Shopify—now valued at over $10 billion after its IPO in 2015.
Ian Graham has been part of Ottawa's tech community for many years and has spent the last decade helping startups as the founder and president of TheCodeFactory, a hybrid coworking space and incubator—a pioneer in that space when it opened downtown nearly 10 years ago. TheCodeFactory is particularly experienced in working with startups looking to bootstrap their business and finance their operations through revenue. He talks about how the startup ecosystem has grown over the least 10 years and where he'd like to see it go from here.
Press play to listen or subscribe with your favourite podcast app.
Links: