Podcast: Play in new window | Download (Duration: 1:00:43 — 55.7MB) | Embed
Subscribe: Apple Podcasts | RSS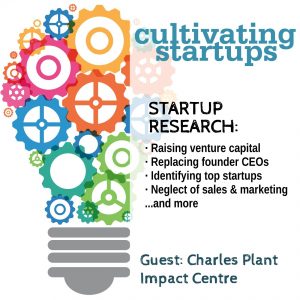 Do Canadian startups replace founder CEOs too quickly? Are startups still focusing significant resources on product development with minimal market feedback? Do Canadian businesses really underinvest in R&D? What do Canadian startups need to do to improve their chances of scaling to prominent size?
These are some of the topics related to Canadian startups that Charles Plant has covered in research reports over the last 14 months. Charles is senior fellow at the Impact Centre at the University of Toronto and he talks about some of the key implications for startups that have emerged from his research.
To start the show, I take a first look at startup ecosystem metrics, focusing on metrics for assessing individual startups. It's long been a criticism of startup ecosystem organizations that they haven't done a good job of collecting data needed to show that their programs are having an impact. Some of the criticism is deserved, but it's not as simple as it may sound.
Links: