Podcast: Play in new window | Download (Duration: 55:10 — 50.6MB) | Embed
Subscribe: Apple Podcasts | RSS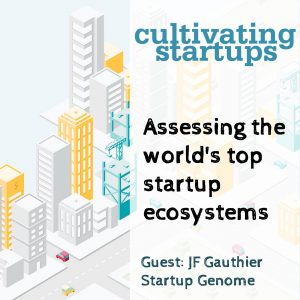 On this week's podcast: For the last five years, Startup Genome has been assessing and ranking startup ecosystems around the world for its Global Startup Ecosystem reports. They recently published their third report, and this week we talk to their CEO, JF Gauthier, about the factors they assess and the metrics they use in determining the rankings.
JF also talks about the startup ecosystem lifecycle model Startup Genome has developed to determine where a region is in its development and what it needs to do next to continue to grow. And we discuss the role of government in growing ecosystems and why JF thinks they need to show a greater sense of urgency to participate in what he calls the "global startup revolution."
To start the show, I discuss how a ranking like Startup Genome's is a challenging undertaking by looking at just two of the many factors they consider in their assessment.
Links: